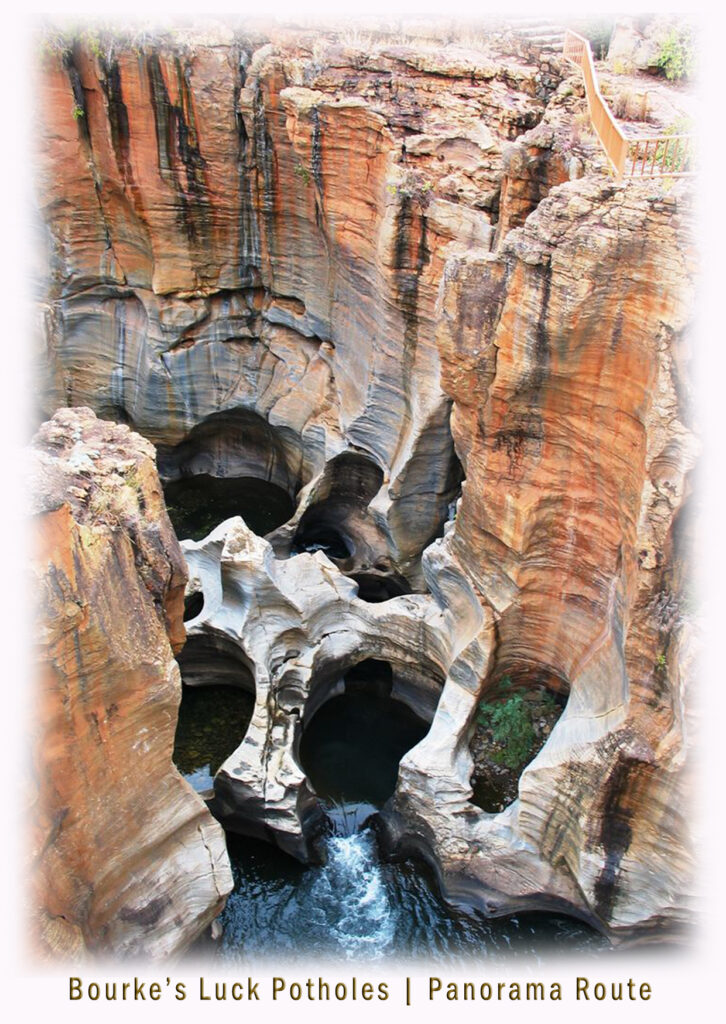 Bourke's Luck Potholes will be the second stop on the Panorama Route (R532) if driving from the North (The Shoe). The fascinating circle like erosion caused by the water over time draws many tourists. This is a lovely spot to just sit with your feet in the ice cold mountain water and let the kids play in the water.
As all the other sites along the Panorama Route there is quite a hefty entrance fee to see the potholes. At the time of this post it is R85 per person to enter the Bourke's Luck Potholes. The reason for the heavy fee is because they provide BBQ and picnic spots free of charge. Except for the 400 meter paved stroll and two bridges that cross over the river you can also wander into the Wildlife Museum. They have some archaeological explanations of how the Potholes originated and a few stuffed birds and small prey animals on show.
There are usually a group of locals consisting of young children who do traditional dances with drums. There are also two serious walking trails that start here. Those interested in a day trail or a 6 day trail can arrange their trip from the Reception area on site. These trails are paid for extra.
Different from the other view points and stops along the Panorama the Bourke's Luck Potholes offer a small jungle gym for the children, a small Tuck Shop and Restaurant as well as permanent shops for the locals to sell their arts and crafts. If you plan on eating and enjoying the water for a bit you can easily spend an hour or more here.
Once again look out for the local hand made magnets like these:
If you did not find them you can get all the different magnets from The Shoe.