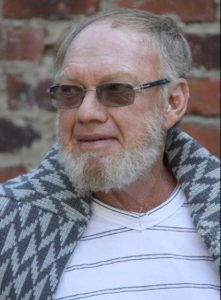 Ron van Zyl, was born in Cape Town in 1950.  He grew up around the Cape,then joined the South-African Navy in 1968 to 1974 when he left to settle near Ohrigstad
His brother Past. Paul van Zyl as well as his parents had already moved here, and he started the Alpha Omega Bible Garden on the way to the Echo Caves.  Here he built the 16 meter high rock face, called 'The Dammed' depicting tormented figures in Hell.
Whilst living there he met his wife Yvonne, married and moved away to  a small piece of land a local farmer gave them.  Once again they built a shop 'Ron's Art' which they stocked with their own artwork and curious to make a living. Their two children Michell and Aldo was born and eventually in 1990 through the help of a friend and partner they bought the current property on which the Shoe is today.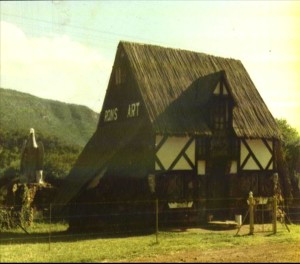 After The Shoe was build they started to develop the rest of the property.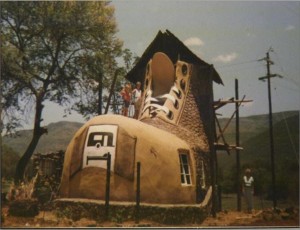 Accommodation, Restaurant, Shop and Tea Garden came into being over the following years and eventually around 1996 Ron was able to get to his vision– he started building the Cave.
Easter Weekend of 1999 their son, Aldo took the first tour through this special man-made Cave in which the spiritual world is explained by sculptures, sound and lighting. After he received divine inspiration to paint a large painting in 2005, the very painting used as an introduction to the Cave tour,  a transformation took place in their lives.
Many other divinely inspired paintings came about and Ron wrote his first book, called 'The Line'.   This new transformation was made official and in 2007  'The Shoe Ministries' of which Ron and his family are the founding members were established.
The Shoe Ministries now makes it their mission to teach people about true Christianity.  The Cross of Jesus Christ is the centre of their teaching and their main topic today is to teach and guide people into the knowledge of a clear conscience which can only be obtained by the blood of Jesus.
Throughout all of this Ron had to be the artist, builder, developer, architect, author and head of his house.  Up to date he has written nine books, painted numerous paintings and carved an unbelievable amount of sculptures, he conducts teaching seminars,  and still does guided tours through their Man-made Cave.  He has obtained his Doctors Degree in Theology and his books are a part of a teaching program hosted by Word in Truth College International.  He still lives and works actively with his family on this current property today. 
See Ron's Artworks
Choose from 4 Categories BELOW: